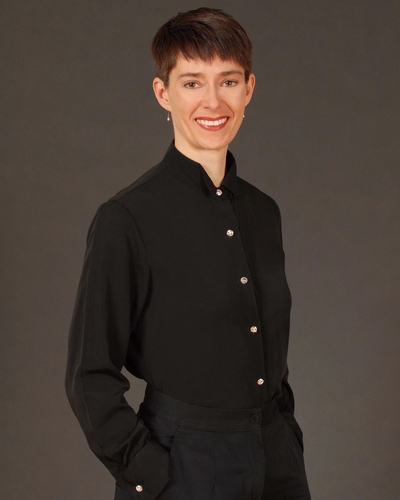 HEATHER BUCHMAN is director of the orchestra and the chamber music program at Hamilton College. Former Principal Trombone of the San Diego Symphony, she has also gained international recognition as a solo trombonist.
Conducting
Buchman completed professional studies in conducting at the Juilliard School. She earned a M.M. in orchestral conducting from the University of Michigan and a B. Mus. degree and Performer's Certificate in trombone from the Eastman School of Music. Her major conducting teachers were Otto Werner Mueller, Kenneth Kiesler, Leonid Korchmar, and Oleg Proskurnya; she has also studied with Murry Sidlin, Michael Jinbo, and David Effron. She has had guest conducting engagements with the Society for New Music in Syracuse, Monarch Brass, and the U.S. Coast Guard Band Brass. In 2008 she was awarded a Women Conductors Grant from the League of American Orchestras to study conducting in St. Petersburg, Russia.
Trombone
Buchman served as Principal Trombonist of the San Diego Symphony from 1988 to 1997, and has also played with the San Francisco, Saint Louis, and Detroit Symphonies, as well as Chicago Music of the Baroque. She won prizes in solo trombone at the ARD International Music Competition in Munich, Germany, the International Trombone Competition in Brisbane, Australia, and the New York Philharmonic Young Artists Concerto Competition. She performed to critical acclaim as concerto soloist with the San Diego Symphony with Robert Shaw, the National Symphony with Mstislav Rostropovich, the Canton Symphony with Gerhardt Zimmerman, and the Bay Area Women's Philharmonic (San Francisco) with JoAnn Falletta. She also made solo appearances at the International Trombone Association and the International Women's Brass Conference, and given masterclasses at Ithaca College, Kent State University, Peabody Conservatory, and the Musikhochschule in Detmold, Germany. She has commissioned and premiered several new works for trombone, including the David Ott Trombone Concerto and Kathryn Alexander's renowned unaccompanied solo Dance the Orange! Her orchestral playing can be heard on several San Diego Symphony recordings under the Naxos label. Her primary trombone teachers were John Marcellus, Mark Lawrence, and Edward Zadrozny.
Synthesis
Having focused primarily on conducting since 1997, Buchman has recently begun to reintegrate solo playing into her musical activities, and is exploring how these two aspects of her musical life inform each other. As a Mellon Curricular Leader studying the Open Curriculum at Hamilton College she is advocating for the role of creativity and aesthetic fluency as an integral part of the liberal arts. A former spelling bee fiend, she is also active in animal and environmental causes, as well as on the Central New York running and triathlon scene.