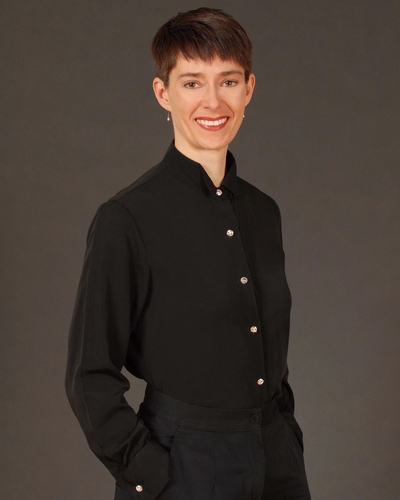 Heather Buchman is director of the Hamilton College Orchestra and Chamber Music program. She is also Education and Outreach Conductor for Symphoria, Syracuse's professional orchestra. She performs regularly as conductor and trombonist with the Society for New Music and Hohenfels Trombone Quartet.
In her work with Symphoria she has developed several innovative programs for both the Kids and Spark series. Spark series programs each have an experimental and unique format, set in nontraditional spaces that are architecturally interesting and creative. The sites generate the inspiration for a program theme or concept. Recent Spark programs have included Music from Space, Music of Machines (both at the Syracuse Museum of Science and Technology), Music and Experimental Film (at the Syracuse Palace Theater), and Sweet Encounters (at the Everson Museum of Art). The Spark experience is smart, edgy, multisensory, and social, and includes multimedia elements and collaboration with other artists.
Buchman's work in regional arts advocacy has been recognized by various arts organizations, including a citation from the Society for New Music in 2013 and Civic Morning Musicals' Ruth Edson Award in 2014. She serves on the board of CNY Arts, a regional organization working with NY State Council on the Arts and other funders for supporting and promoting arts and culture in Central New York – and co-chaired CNY Arts' regional study of arts and culture in 2013-14. In 2012 she received Hamilton College's Class of 1963 Award for Outstanding Teaching. She also served on the ad hoc committee that developed Hamilton College's educational goals.
Buchman was Principal Trombonist of the San Diego Symphony from 1988 to 1997. She won prizes at the ARD International Music Competition in Munich, Germany and the New York Philharmonic Young Artists Concerto Competition.
She completed professional studies in conducting at the Juilliard School, earned a M.M. in orchestral conducting from the University of Michigan, and a B. Mus. degree in trombone from the Eastman School of Music. More recent studies include conducting workshops in St. Petersburg, Russia.
She is also a longtime student of movement (Alexander Technique, yoga, Tai Chi) and recently began studying ballet. She explores the many parallels and intersections between music and dance in her teaching. Other current interests include music based in pure sound, as in sound art – as well as the connections between music/sound and other art forms. A runner and sometime triathlete, she also maintains her own website.