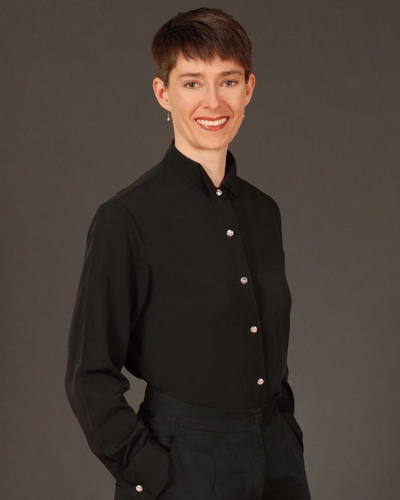 Heather Buchman is director of the Hamilton College Orchestra and Chamber Music program and Chair of the Department of Music. Throughout her career she has acted as a catalyst for innovation and collaboration, and seeks to empower others to find and use their voice.
Buchman has done a wide range of collaborative work in theatre, dance, and multimedia, including productions of Tchaikovsky's Nutcracker, Bernstein's West Side Story, several new operas, and works incorporating music technology and live performance. She serves as president of the board and conductor for the Society for New Music. She is a regular guest conductor with Symphoria, and was recently named a semifinalist for the American Prize in conducting, college and university division. Her work in arts advocacy has been recognized by the Society for New Music and Civic Morning Musicals.
Buchman completed professional studies in conducting at the Juilliard School, earned a M.M. in orchestral conducting from the University of Michigan, and a B. Mus. degree in trombone from the Eastman School of Music. More recent studies include conducting workshops in St. Petersburg, Russia, and ballet programs in Utica, Boston, and Saratoga Springs.
She served as Principal Trombonist of the San Diego Symphony from 1988-1997. She won prizes at the ARD International Music Competition in Munich, Germany and the New York Philharmonic Young Artists Concerto Competition. She also maintains her own website, SoundCloud and Vimeo pages.