Slocan Narrows Archaeological Project
Next Field Course Summer 2022
Archaeology Field Course
The Anthropology Department offers a biennial field school course taught at the Slocan Narrows Pithouse Village in southeastern British Columbia, Canada. The course runs over four weeks during June and July. The field school trains students in excavation, survey, equipment used in mapping, as well as the archaeology, ethnography, and oral tradition of the interior Pacific Northwest. The next field school will be taught in 2019 reoccurring every other year after. Upon the completion of this course, students are eligible to be employed in archaeology. Prerequisite, Arch 106: Principles of Archaeology.
Slocan Narrows Archaeological Project
Our Vimeo page here where we host the film Produced by Petra Elfström '18, Archaeology at the river narrows: Indigenous occupation of the Slocan Valley.
Read the blog "I'm Going on an Adventure" by Mariah Walzer '17, SNAP student during the summer of 2015
September Issue 2015
On the cover: Excavation at a 2,600 year old pithouse, Slocan Narrows Archaeological Project, southeastern British Columbia. Field school students Anna Arnn '17 (Hamilton College), Mariah Walzer '17 (Hamilton College), and Michael Graeme (Selkirk College/University of Victoria). Photo credit David R. Gluns.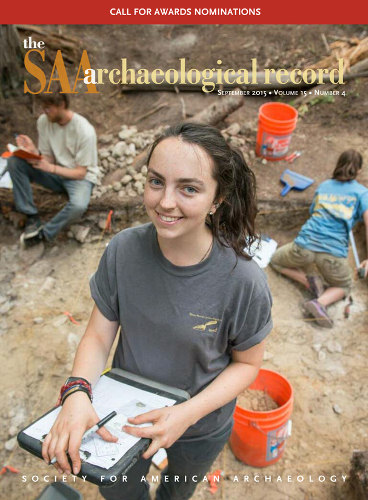 Images from the 2015 Hamilton College Archaeology Field Course at Slocan Narrows
Photo credit David R. Gluns