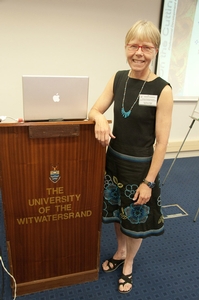 Below, you'll find links to web resources that I've had a hand in developing to improve undergraduate geoscience education. I have also given many workshops for faculty in all disciplines both here and abroad on designing effective and innovative courses, assignments, and activities, the most recent of which was at the University of the Witwatersrand in Johannesburg, South Africa. If you are interested in having me give a workshop at your institution, please contact me.
______
Jump down to Teaching GIS and Remote Sensing | On the Cutting Edge | Using Google Earth to Teach Geologic Map Interpretation | Tutorial on Designing Innovative Courses | Using the Jigsaw Technique in Teaching | SENCER
Download 2014 GSA poster: Using Online Video Conferencing and File Sharing to Run Multi-institutional Seminars and to Bring Guest Speakers to the Classroom.
Teaching GIS and Remote Sensing
In August, 2010, I co-convened a workshop on Using GIS and Remote Sensing to Teaching Geoscience in the 21st Century. The GIS/RS resource page from the workshop includes links to syllabi plus over 150 college-level assignments and activities for GIS and remote sensing courses, workshop presentations, links to online data sources, and all of the course materials that I have developed for the course GIS for Geoscientists at Hamilton.
On the Cutting Edge
I am a PI on the NSF-funded project On the Cutting Edge, a professional development program for college and university geoscience faculty. Over the past 10 years, more than 1400 geoscience faculty members have attended a Cutting Edge workshop. This represents about 25% of all US geoscience faculty from more than half of all US geoscience departments. The Cutting Edge web resource collection now includes over 4000 pages, 33 topical collections, and more than 1200 community-contributed teaching activities. Our web site was selected as one of the 2009 winners of the AAAS Science Prize for Online Research in Education (SPORE). Please visit the Cutting Edge Workshop Schedule Page to see what we are offering this year.
Using Google Earth to Teach Geologic Mapping and Geologic Map Interpretation
Google Earth 3D is a fantastic resource for teaching geologic map interpretation in intro geology and structural geology. I have posted details on my approach, along with .kmz files of outstanding locations around the world, in the online resources of On the Cutting Edge.
Tutorial for Designing Effective and Innovative Courses in the Geosciences
As part of my work with the NSF-funded project On the Cutting Edge, I have developed an online course design tutorial to help faculty design more effective and more innovative courses. The tutorial is self-paced and contains links to many other resouces on teaching strategies, assignment design, and assessment. The tutorial is based on the face-to-face course design workshops that I have led for many years, and the online resource also has resources for faculty professional developers who want to offer their own face-to-face course design workshops based on the Cutting Edge approach. The tutorial received outstanding reviews by MERLOT (the Multimedia Educational Resource for Learning and Online Teaching) and is catalogued as part of their online resources.
Using the Jigsaw Technique in Teaching
As part of the Cutting Edge project, I developed an online resource on how to use the jigsaw technique. This online resource (now cataloged under the NSF-funded project Pedagogy in Action) contains practical tips for using the technique, along with many examples of its use.
SENCER (Science Education for New Civic Engagements and Responsibilities)
The NSF-funded SENCER project promotes the teaching of undergraduate science, math, and engineering through connecting these disciiplines to students' other studies and to increase their capacities for responsible work and citizenship. In 2002, my introductory geology course The Geology and Development of Modern Africa was selected as a SENCER Model Course because of its focus on the underlying influence of geoogy on human events. I have since been involved with SENCER as a Senior Fellow and have given keynotes, course design workshops, and sessions on effective assignment design annually at SENCER Summer Institutes.