Barbara Tewksbury Kiltmaker
The slideshow above shows a small number of the kilts I've made over the years. You'll see examples of a variety of tartans, include regional and corporate tartans (Arctic, Antarctica, Isle of Skye, New Hampshire, HIghland Granite, Scottish Odyssey, and USA St. Andrews Society), military tartans (U.S. Air Force), family tartans (Weathered Stewart Old Sett, Ferguson), and personal tartans (Hamish Bicknell). People design new tartans all the time, register them, and have tartan woven for kilts. You'll see an example below - I made a kilt from a new tartan called the PSD (Private Security Detail) tartan and sent it to a fellow working for a private military contractor in Baghdad. I love the picture of the guys in full battle rattle and him in his kilt....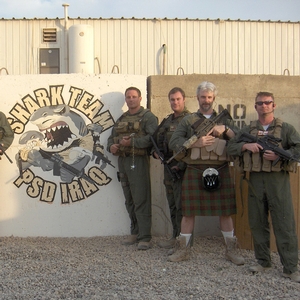 Interview with Barb about kiltmaking for Mohawk Valley Living TV spot.